DEXA Bone Densitometers

MedScan is pleased to provide our customers with multile options for new and refurbished bone densitometer equipment. While we continue to update our website, please find just two examples below of the DXA systems that MedScan offers. Looking for a different model? Please contact us or Request a Quote and a sales representative will contact you to discuss several exxcellent options tailored to your specification and budget requirements.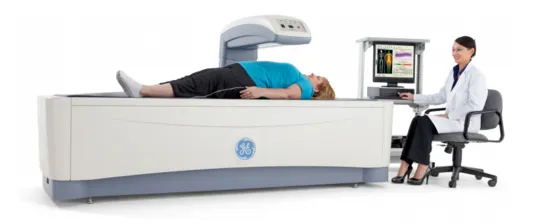 GE Prodigy Advance
Optimal health depends on accurate diagnosis and preventive treatment. That's why so many professionals around the globe rely on Prodigy™ for comprehensive body composition analysis, including bone mineral density (BMD) and lean and fat tissue mass.

Prodigy delivers reliable dual-energy X-ray absorptiometry (DXA) with excellent precision and extremely low radiation dose. Prodigy efficiently streamlines patient care and practice workflow. You can trust Prodigy to help ensure the vitality of your patients and your practice
Hologic Horizon
Are you looking for a brand new DXA option? Consider the Hologic Horizon DXA system. The Horizon DXA fits comfortably into a 8' x 8' exam room (8' x 10' whole body models) and requires no protective shielding or special room preparations.
The Horizon DXA System features the latest innovations in bone densitometry technology including a new digital high resolution ceramic detector as well as a new high frequency X-ray Generator.