Thank you for visiting MedScan today to inquire about diagnostic ultrasound equipment. In addition to the ultrasound brands listed below, MedScan is also pleased to provide the Healcerion 300 Series ultrasound devices to assist with early COVID-19 detection as described below. If you don't see the particular brand or model of new or used ultrasound that you are looking for, please make sure to call us at (855) 358-6767, Contact Us, or Request a Quote and a representative will contact you soon!
HEALCERION 300 Series Ultrasound

Diagnosis of COVID-19 by lung ultrasound scan using SONON 300L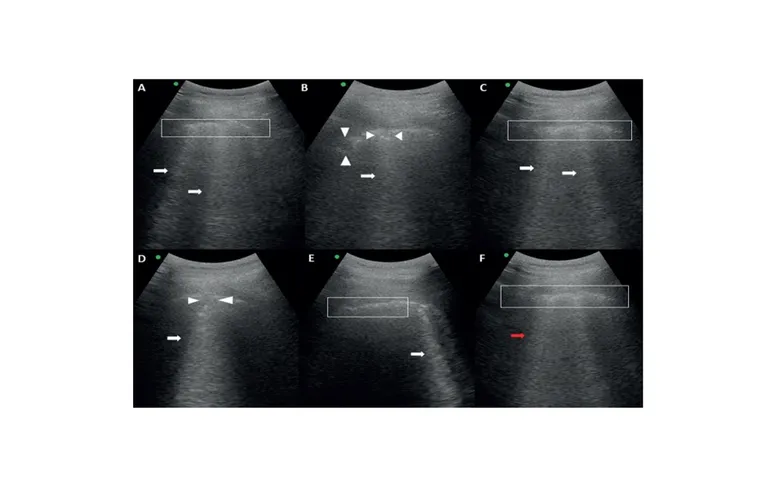 Pneumonia has been the most common clinical presentation.
As lung abnormalities may develop before clinical manifestations and nucleic acid detection, experts have recommended early imaging exam of screening suspected patients.
Complications: ARDS, acute kidney damage, heart damage, liver failure, pneumothorax
Lung ultrasound scan (Pneumonia) - COVID-19 early detection
No cords or wires, easy to carry and connect to IOS and Android devices
Up to 3 hours of continuous scanning with up to 12 hours of standby mode
Compatible with PACS
FDA Approved
Frequency: 5, 7.5 and 10 MHz
Max. Depth: 10cm
Imaging Mode: B Mode / Color Mode
370g with Battery
Dimensions: 78 x 229 x 38mm
Field of View: 4cm
Applications: MSK (Muscular-Skeletal), Vascular, Small Parts (Breast, Thyroid) and Lung Applications
Two Battery Packs, Charging Dock, Power Adapter, AC Adapter for the 300L & Power Cables Included
2 Year Warranty
---
HEALCERION SONON 300L 5-10 MHz Wireless, Wi-Fi Ultrasound, Linear Probe
for MSK (Muscular-Skeletal), Vascular, Small Parts (Breast, Thyroid) and Lung applications.
Lung ultrasound has been successfully used in diagnosing the cause of respiratory failure in the Emergency Department and has been shown to have higher sensitivity and specificity than chest X ray and physical examination in detecting pleural effusions and pneumothorax. Point of Care Lung Ultrasound is gaining popularity across many different medical specialties and is becoming part of the modern physicians clinical armamentarium.
Lung ultrasound can be a valuable addition to the emergency physician's (EP's) diagnostic armamentarium.
Lung ultrasound is a basic application of critical ultrasound, defined as a loop associating urgent diagnoses with immediate therapeutic decisions. A comprehensive point-of-care scan can be done in <5 min.
Through the rapid development of mobile technology, Healcerion strives to bring affordable, high-quality medical care to clinical and remote locations around the world.
Healcerion is standing to offer mobile ultrasound imaging device that is specially optimized to provide physicians, surgeons, and even patients with portability and comfortability. Healcerion Wi-Fi, hand-held and telemedical ability invites everyone to join them in changing the world into a better place.
The 300 Series ultrasound devices can be powered by conventional or solar power sources. Ideal for POC healthcare practitioners such as PTs, PCPs, Chiropractors, First responders, Military and Government/NGO Aid Agencies.delivers high quality diagnostic imaging for Physical therapy, Family Medicine, Emergency, Value Care and Telemedicine environments.